James C. Rice
(War-date) Autograph Letter Signed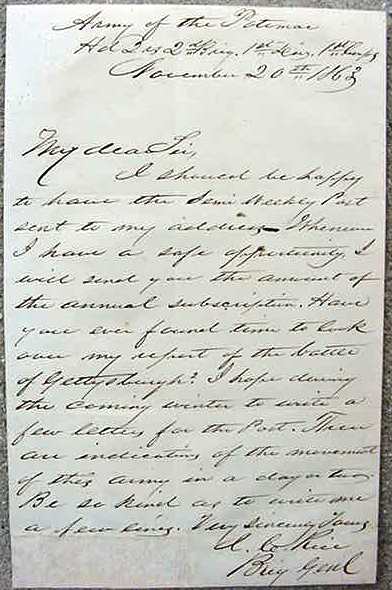 Note: This piece is unframed

James C. Rice (1829-64) Union Brigadier General - New York After early-war service with the 39th New York, Rice led the 44th New York in the Peninsula campaign, and at Second Manassas, Chancellorsville, and Gettysburg, where his heroic defense of Little Round Top secured his promotion to brigadier. He was severely wounded while leading a brigade in Wadsworth's division at Spotsylvania and died from complications arising from the amputation of his leg.
War-date Autograph Letter Signed, 5" x 7.5", written the day after Abraham Lincoln's delivery of the Gettysburg Address, ordering a newspaper subscription, and seeking the unnamed recipient's opinion of Rice's report of the Battle of Gettysburg. For the presumed purpose of illustrating his importance as a correspondent, Rice further offers to submit letters for publication during the upcoming winter, and, astonishingly, suggests an imminent movement of the Army of the Potomac.
"Army of the Potomac, H[ea]d Q[uarte]rs 2nd Brig. 1st Div. 1st Corps, November 20th 1863. My dear Sir, I should be happy to have the Semi Weekly Post sent to my address. Whenever I have a safe opportunity, I will send you the amount of the annual subscription. Have you ever found time to look over my report of the battle of Gettysburg? I hope during the coming winter to write a few letters for the Post. There are indications of the movement of this army in a day or two. Be so kind as to write me a few lines. Very sincerely Yours, J.C. Rice, Brig. Genl."
Throughout the war, President Lincoln and the Union high command were routinely vexed by the reporting of troop movements in the newspapers which could be readily obtained by the Confederate sympathizers and spies. It is astounding that Rice, newly appointed to the rank of brigadier general for his gallantry at Gettysburg, would volunteer such information to a newspaperman.
Lightly and evenly toned, with several light folds; a 3/4" x 2 1/2" area of paper loss in the lower left corner has been professionally restored.
Note: This piece is unframed
Autograph:

James C. Rice

Document Type:

Autograph Letter Signed

Unframed Dimensions:

5" l x 7.5" h

Price:

$ 1395.00

Shipping/Handling:
$ 7.00
Please note: When you add an item to your cart, the price includes DOMESTIC shipping and handling fees. Email us for INTERNATIONAL rates prior to buying. You can pay by Paypal or your own credit card. For more information, please review our terms and policies on our FAQ's page.
Home - Historical Figures - Civil War - James C. Rice